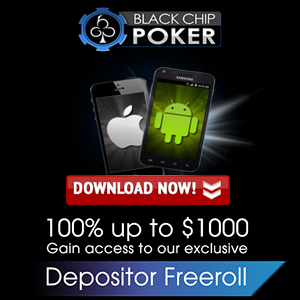 Some excellent news if you enjoy playing sit n go poker tournaments and you make the very wise decision of playing at Black Chip Poker, for they have just increased the value of the maximum prize you can win on their Jackpot Poker Sit n Go poker tournaments!
If you are not used to playing in Sit n Go Poker tournaments then it's about time you learn more about them for you could win up to $1m dollars when playing the Jackpot Poker tournaments now on offer at this leading poker site!
They have been structured in a very easy to understand way and with that in mind we shall now give you  quick run through of how out can take your chances on these must play sit n go poker tournaments which are up and running day and night!
Players – You are going to have a very good chance of winning a Jackpot Poker sit n go poker tournament for there are only going to be three players taking part in them and as such when you do enter any of them you have a 2 to 1 chance of winning that tournament!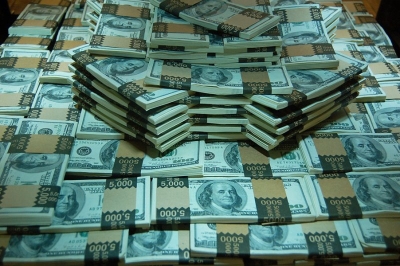 Fast Play – One thing you will need to have to do when playing the Jackpot Poker tournaments at Black Chip Poker is to make all of your playing and betting decisions rapidly as they have been designed and structured as Hyper-Turbo Sit and Go tournaments!
Starting Stack – All players are allocated 500 chips and they will be playing in a tournament with 3 minute levels, so you will have to use those chips optimally and strategically if you do want to win the prizes attached to these types of online poker tournaments!
Buy-In Amount – One thing that we think you will like in regards to the way these tournaments have been designed is that you are able to pick and choose the buy in amounts, and as such you will have four different buy ins available to you those being $2, $10, $25, or $40 and as such there will be a tournament you will be able to afford to play in as they are structured and designed to suit all players bankrolls!
Random Prize Pool – Each Jackpot Poker sit n go poker tournament is going to have a randomly chosen prize pool attached to it which could be anywhere from 2 to 2500 times the buy in amount and as such there can be a huge prize pool attached to nay one of them you take part in!
Increased Jackpot – You will now have a chance of winning a $1million jackpot on these sit n go poker tournaments as opposed to the usual maximum jackpot of $100k and a such be on the lookout for the Jackpot Poker tournaments that have buy-in amounts of $0.69, $6.90, and $69 as they will be the ones offering that mind blowing jackpot prize pool!